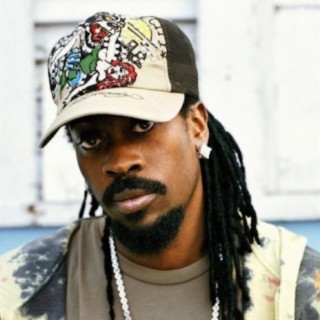 Beenie Man
Current #4,146

All Time #2,296

Anthony Moses Davis (born August 22, 1973 in Kingston, Jamaica), better known by the stage name Beenie Man, is a well-established reggae artist and DJ. Many of Beenie Man songs become very popular and trendy online with a great number of streaming and downloads on Boomplay.

Career
Beenie Man was involved in the music industry from a young age when he won the Tastee Talent contest in 1981. Only one year later, when he was eight years old, he recorded a single, "Too Fancy", with record producer "Junjo" Lawes. By 1983, Beenie Man was recording with heavyweight DJs, such as Dillinger and Fathead and released his debut album, The Invincible Beenie Man: The Ten Year Old DJ Wonder and the single "Over the Sea".

He was booed off stage at a show celebrating the visit of Nelson Mandela. In 1993 at the very popular show Sting he accused fellow deejay Bounty Killer that the elder artist had stolen his catchphrase, "people dead". This triggered a lyrical battle which continued on the air with each artist counteracting the other's songs.

Finally, in 1995, Beenie Man and Bounty Killer settled their differences on the air by actually signing a peace treaty and the two recorded an album together, Guns Out. This was followed by a single, "No Mama No Cry", a rehash of the Bob Marley classic "No Woman No Cry", speaking out against violence and inspired by the murder of Pan Head, another popular Deejay.

Partially as a result of prodding from his producers, Sly and Robbie, Beenie Man soon converted to the Rastafari movement.

In 1994, he was signed by Island Records and released the critically acclaimed album Blessed.

In 1995, Beenie Man released a remix of Barrington Levy's "Under Mi Sensi" in the United Kingdom, and collaborated with Dennis Brown and Triston Palma to release Three Against War and Lt. Stitchie on Mad Cobra Meets Lt. Stitchie & Beenie Man.

He took another step up the ladder in 1996, releasing the seminal Maestro, produced by Patrick Roberts and shot him to UK fame. During the period from the mid to late '90s, Beenie Man dominated the Jamaican charts to the extent that he perhaps had a good claim to the crown of "Dancehall King", a title only bestowed previously on Yellowman in the early 1980s.

In 1998, Beenie Man signed to Virgin Records to release albums in the United States. His first American offering was The Doctor (1998). In 2000, Beenie Man teamed up with Arturo Sandoval and Wyclef Jean (The Fugees) to release The Art & Life. During the late 1990s, Beenie Man began his conquest of America with the hits, "Romie", "Who Am I" and "Girls Dem Sugar", which featured American R&B singer, Mya.

In 2002, he had a sizeable hit with a duet with Janet Jackson called "Feel It Boy", but his biggest break in America came in early 2004 with the release of a remix of "Dude", featuring guest vocals by fellow Jamaican Ms. Thing, as well as rhymes by Shawnna.

Follow Boomplay and keep up to date with the latest Beenie Man songs and information.

Beenie Man Songs
• Girls Dem Sugar
• King of the Dancehall
• Who Am I
• Romie
• Dude
• Slam
• Street Life
• Hmm Hmm
• Feel It Boy
• Back It Up
• Miss L.A.P
• Fun in the Sun (feat. Popcaan & Dre Island)
• Rum & Redbull
• Let Him Go
• Chaka Dance
• Who you Wanna Dis
• Bad Man Nuh Flee
• Gimme Gimme
• Gospel Time
• Bossman
• Yagga Yo
• Row Like a Boat
• Fresh From Yard
• World Dance
• Haters and Fools
• Badda Dan
• I'm Drinking / Rum & Red Bull
• Bookshelf
• Wicked Slam
• Gimmie Gimmie
• 100 Dollar Bag
• Clean Heart

Beenie Man songs are included in Boomplay music playlists. Search to stream and download Beenie Man songs MP3/ single/ albums on the platform....more

Country/Region : Jamaica
Songs

(119)

Albums

(59)

Playlists

(22)
1

2

3

4

5

6

7

8

9

10

11

12

13

14

15

16

17

18

19

20

21

22

23

24

25

26

27

28

29

30

31

32

33

34

35

36

37

38

39

40

41

42

43

44

45

46

47

48

49

50

51

52

53

54

55

56

57

58

59

60

61

62

63

64

65

66

67

68

69

70

71

72

73

74

75

76

77

78

79

80

81

82

83

84

85

86

87

88

89

90

91

92

93

94

95

96

97

98

99

100
Listen to Beenie Man's new songs including "Blessings Pon Blessings", "I Pray ft. Singer J", "Flex" and many more. Enjoy Beenie Man's latest songs and explore the Beenie Man's new music albums. If you want to download Beenie Man songs MP3, use the Boomplay App to download the Beenie Man songs for free. Discover Beenie Man's latest songs, popular songs, trending songs all on Boomplay.
Anthony Moses Davis (born August 22, 1973 in Kingston, Jamaica), better known by the stage name Beenie Man, is a well-established reggae artist and DJ. Many of Beenie Man songs become very popular and trendy online with a great number of streaming and downloads on Boomplay.

Career
Beenie Man was involved in the music industry from a young age when he won the Tastee Talent contest in 1981. Only one year later, when he was eight years old, he recorded a single, "Too Fancy", with record producer "Junjo" Lawes. By 1983, Beenie Man was recording with heavyweight DJs, such as Dillinger and Fathead and released his debut album, The Invincible Beenie Man: The Ten Year Old DJ Wonder and the single "Over the Sea".

He was booed off stage at a show celebrating the visit of Nelson Mandela. In 1993 at the very popular show Sting he accused fellow deejay Bounty Killer that the elder artist had stolen his catchphrase, "people dead". This triggered a lyrical battle which continued on the air with each artist counteracting the other's songs.

Finally, in 1995, Beenie Man and Bounty Killer settled their differences on the air by actually signing a peace treaty and the two recorded an album together, Guns Out. This was followed by a single, "No Mama No Cry", a rehash of the Bob Marley classic "No Woman No Cry", speaking out against violence and inspired by the murder of Pan Head, another popular Deejay.

Partially as a result of prodding from his producers, Sly and Robbie, Beenie Man soon converted to the Rastafari movement.

In 1994, he was signed by Island Records and released the critically acclaimed album Blessed.

In 1995, Beenie Man released a remix of Barrington Levy's "Under Mi Sensi" in the United Kingdom, and collaborated with Dennis Brown and Triston Palma to release Three Against War and Lt. Stitchie on Mad Cobra Meets Lt. Stitchie & Beenie Man.

He took another step up the ladder in 1996, releasing the seminal Maestro, produced by Patrick Roberts and shot him to UK fame. During the period from the mid to late '90s, Beenie Man dominated the Jamaican charts to the extent that he perhaps had a good claim to the crown of "Dancehall King", a title only bestowed previously on Yellowman in the early 1980s.

In 1998, Beenie Man signed to Virgin Records to release albums in the United States. His first American offering was The Doctor (1998). In 2000, Beenie Man teamed up with Arturo Sandoval and Wyclef Jean (The Fugees) to release The Art & Life. During the late 1990s, Beenie Man began his conquest of America with the hits, "Romie", "Who Am I" and "Girls Dem Sugar", which featured American R&B singer, Mya.

In 2002, he had a sizeable hit with a duet with Janet Jackson called "Feel It Boy", but his biggest break in America came in early 2004 with the release of a remix of "Dude", featuring guest vocals by fellow Jamaican Ms. Thing, as well as rhymes by Shawnna.

Follow Boomplay and keep up to date with the latest Beenie Man songs and information.

Beenie Man Songs
• Girls Dem Sugar
• King of the Dancehall
• Who Am I
• Romie
• Dude
• Slam
• Street Life
• Hmm Hmm
• Feel It Boy
• Back It Up
• Miss L.A.P
• Fun in the Sun (feat. Popcaan & Dre Island)
• Rum & Redbull
• Let Him Go
• Chaka Dance
• Who you Wanna Dis
• Bad Man Nuh Flee
• Gimme Gimme
• Gospel Time
• Bossman
• Yagga Yo
• Row Like a Boat
• Fresh From Yard
• World Dance
• Haters and Fools
• Badda Dan
• I'm Drinking / Rum & Red Bull
• Bookshelf
• Wicked Slam
• Gimmie Gimmie
• 100 Dollar Bag
• Clean Heart

Beenie Man songs are included in Boomplay music playlists. Search to stream and download Beenie Man songs MP3/ single/ albums on the platform.
New Comments(
11

)
FAQs about Beenie Man
Where is Beenie Man from?
He is from Jamaica.
How to download songs of Beenie Man?
You can download songs of Beenie Man from Boomplay App for free.
Firstly, install Boomplay app on your mobile phone.
Secondly, navigate to the song you would like to download.
Thirdly, Tap on More > Download.