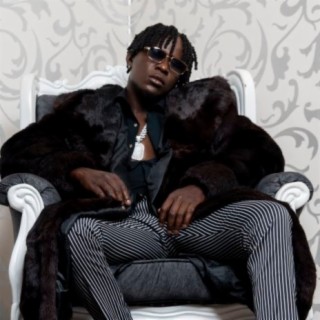 Willy Paul
Current #837

All Time #524

Wilson Abubakar Opondo Radido was born to Mr. and Mrs. Paul Radido in September 1993 in Mathare slums. Many Willy Paul songs become very popular and trendy online with a great number of streaming and downloads on Boomplay.

His father was a carpenter, while his wife, was a hairdresser until 2011,Wilson dropped out of school in 2011 due to financial constrain. He took Juakali jobs to generate income to support his mother.

Wilson Abubakar Radido is a Kenyan artist and songwriter from Nairobi. He is the chief executive officer and founder of Saldido international entertainment.Paul was named male artist of the year at the 2013 Groove Awards alongside his mentor Gloria Muliro, who took the female artist of the year award.

Some of his well-known singles are "I do" featuring Alaine from Jamaica, " Njiwa" featuring Nandy from Tanzania, "Hallelujah" featuring Nandy, "Sikireti" featuring Cecil from Jamaica, "Nobody" featuring Yemi Alade from Nigeria, "Mmmh" featuring @rayvanny from Tanzania, "Jigi Jigi, Kanungo, Malingo", and "You Never Know" which earned him recognition and a US tour.

He first gained recognition after recording the song "Sitolia" with Muliro which was an object of controversy after several claims by Willy that he was not earning much from the song because Muliro allegedly owned exclusive copyrights to the song.They settled their differences and recorded another hit song, "Kitanzi". In 2012, he was nominated for the Kisima Music Awards' Male Artist of the year managed by David Grey.

Follow Boomplay and keep up-to-date with the latest Willy Paul songs and information.

CAREER AND ACHIEVEMENTS
His first hit was "Rabuka". His major breakthrough came in 2010. He later co-authored his first single "Sitolia" with Muliro, which was a reflection of his life history, depicting his struggles and giving himself a renewed hope that God had brought him to the limelight.

His first album, You never know launched on 5 December 2013 in a ceremony at KICC, graced by Daddy Owen, Ben Githae, Gloria Muliro, DK Kwenye Beat, Ben Bahati, Bahati, Men Of God (MOG), Size 8, Mr Seed, Shiru Wa GP, Betty Bayo, Danny Gift, DJ Sadic and DJ Mo. The album included, "You never know", "Lala Salama", "Mpenzi" and "Kitanzi".

Paul toured the US in 2014, performing in churches in 12 states. The tour began on 10 March in Sacramento, California. He performed alongside artiste Polly Odotte at the House of Glory Church. He then headed to Neema Gospel Church in Dallas, Texas, and, on 15 March, performed at St Louisiana, Missouri. On 29-30 March, Willy ministered to the audience at Neema Community Church in Overland Park, Kansas. He concluded his tour on 27 April in Las Vegas, Nevada.

Paul beat Bahati with his "Tam Tam" song featuring Size 8 and managed to win 2 Mdundo Awards: Most Downloaded Gospel Artist and Most Downloaded Male Single. He won four nominations for the awards with "Tam Tam", a collaboration with Size 8 released in 2014 granting him Collabo of the Year, Video of the Year, Song of the year and Male Artist of the Year.

Willy Paul songs are included in Boomplay music playlists. Search to stream and download Willy Paul songs MP3/ single/ albums on the platform....more

Country/Region : Kenya
Listen to Willy Paul's new songs including "TOTO", "Nimelewa ft. Jux", "My Woman" and many more. Enjoy Willy Paul's latest songs and explore the Willy Paul's new music albums. If you want to download Willy Paul songs MP3, use the Boomplay App to download the Willy Paul songs for free. Discover Willy Paul's latest songs, popular songs, trending songs all on Boomplay.
Wilson Abubakar Opondo Radido was born to Mr. and Mrs. Paul Radido in September 1993 in Mathare slums. Many Willy Paul songs become very popular and trendy online with a great number of streaming and downloads on Boomplay.

His father was a carpenter, while his wife, was a hairdresser until 2011,Wilson dropped out of school in 2011 due to financial constrain. He took Juakali jobs to generate income to support his mother.

Wilson Abubakar Radido is a Kenyan artist and songwriter from Nairobi. He is the chief executive officer and founder of Saldido international entertainment.Paul was named male artist of the year at the 2013 Groove Awards alongside his mentor Gloria Muliro, who took the female artist of the year award.

Some of his well-known singles are "I do" featuring Alaine from Jamaica, " Njiwa" featuring Nandy from Tanzania, "Hallelujah" featuring Nandy, "Sikireti" featuring Cecil from Jamaica, "Nobody" featuring Yemi Alade from Nigeria, "Mmmh" featuring @rayvanny from Tanzania, "Jigi Jigi, Kanungo, Malingo", and "You Never Know" which earned him recognition and a US tour.

He first gained recognition after recording the song "Sitolia" with Muliro which was an object of controversy after several claims by Willy that he was not earning much from the song because Muliro allegedly owned exclusive copyrights to the song.They settled their differences and recorded another hit song, "Kitanzi". In 2012, he was nominated for the Kisima Music Awards' Male Artist of the year managed by David Grey.

Follow Boomplay and keep up-to-date with the latest Willy Paul songs and information.

CAREER AND ACHIEVEMENTS
His first hit was "Rabuka". His major breakthrough came in 2010. He later co-authored his first single "Sitolia" with Muliro, which was a reflection of his life history, depicting his struggles and giving himself a renewed hope that God had brought him to the limelight.

His first album, You never know launched on 5 December 2013 in a ceremony at KICC, graced by Daddy Owen, Ben Githae, Gloria Muliro, DK Kwenye Beat, Ben Bahati, Bahati, Men Of God (MOG), Size 8, Mr Seed, Shiru Wa GP, Betty Bayo, Danny Gift, DJ Sadic and DJ Mo. The album included, "You never know", "Lala Salama", "Mpenzi" and "Kitanzi".

Paul toured the US in 2014, performing in churches in 12 states. The tour began on 10 March in Sacramento, California. He performed alongside artiste Polly Odotte at the House of Glory Church. He then headed to Neema Gospel Church in Dallas, Texas, and, on 15 March, performed at St Louisiana, Missouri. On 29-30 March, Willy ministered to the audience at Neema Community Church in Overland Park, Kansas. He concluded his tour on 27 April in Las Vegas, Nevada.

Paul beat Bahati with his "Tam Tam" song featuring Size 8 and managed to win 2 Mdundo Awards: Most Downloaded Gospel Artist and Most Downloaded Male Single. He won four nominations for the awards with "Tam Tam", a collaboration with Size 8 released in 2014 granting him Collabo of the Year, Video of the Year, Song of the year and Male Artist of the Year.

Willy Paul songs are included in Boomplay music playlists. Search to stream and download Willy Paul songs MP3/ single/ albums on the platform.
New Comments(
387

)
FAQs about Willy Paul
Where is Willy Paul from?
He is from Kenya.
How to download songs of Willy Paul?
You can download songs of Willy Paul from Boomplay App for free.
Firstly, install Boomplay app on your mobile phone.
Secondly, navigate to the song you would like to download.
Thirdly, Tap on More > Download.