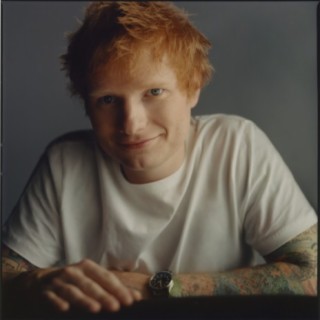 Ed Sheeran
Current #102

All Time #193

Edward Christopher Sheeran MBE ( born 17 February 1991) is an English singer-songwriter, record producer, musician, and actor. Ed Sheeran has sold more than 150 million records worldwide, making him one of the world's best-selling music artists. Ed Sheeran has 84.5 million RIAA-certified units in the US, and two of his albums are in the list of the best-selling albums in UK chart history.

Ed Sheeran's debut album, + (pronounced "plus"), was released in September 2011 and topped the UK Albums Chart. It contained his first hit single "The A Team". In 2012, Sheeran won the Brit Awards for Best British Male Solo Artist and British Breakthrough Act. Sheeran's second studio album, × (pronounced "multiply"), was released in June 2014 and was named the second-best-selling album worldwide of 2015. In the same year, × won Album of the Year at the 2015 Brit Awards, and he received the Ivor Novello Award for Songwriter of the Year from the British Academy of Songwriters, Composers and Authors. A single from ×, "Thinking Out Loud", earned him the 2016 Grammy Awards for Song of the Year and Best Pop Solo Performance.

Ed Sheeran's third album, ÷ (pronounced "divide"), was released in March 2017, and was the best-selling album worldwide of 2017. The world's best-selling artist of 2017, he was named the Global Recording Artist of the Year.

Released in 2019, Ed Sheeran's fourth studio album No.6 Collaborations Project debuted at number one in most major markets, and spawned three UK number one singles, "I Don't Care", "Beautiful People" and "Take Me Back to London".

Globally, Spotify named him the second most streamed artist of the decade. Beginning in March 2017, his ÷ Tour became the highest-grossing of all time in August 2019. An alumnus of the National Youth Theatre in London, Sheeran's acting roles include appearing in the 2019 films Yesterday and Star Wars: The Rise of Skywalker. Listen to Ed Sheeran on Boomplay....more

Country/Region : United Kingdom
Listen to Ed Sheeran's new songs including and many more. Enjoy Ed Sheeran's latest songs and explore the Ed Sheeran's new music albums. If you want to download Ed Sheeran songs MP3, use the Boomplay App to download the Ed Sheeran songs for free. Discover Ed Sheeran's latest songs, popular songs, trending songs all on Boomplay.
Edward Christopher Sheeran MBE ( born 17 February 1991) is an English singer-songwriter, record producer, musician, and actor. Ed Sheeran has sold more than 150 million records worldwide, making him one of the world's best-selling music artists. Ed Sheeran has 84.5 million RIAA-certified units in the US, and two of his albums are in the list of the best-selling albums in UK chart history.

Ed Sheeran's debut album, + (pronounced "plus"), was released in September 2011 and topped the UK Albums Chart. It contained his first hit single "The A Team". In 2012, Sheeran won the Brit Awards for Best British Male Solo Artist and British Breakthrough Act. Sheeran's second studio album, × (pronounced "multiply"), was released in June 2014 and was named the second-best-selling album worldwide of 2015. In the same year, × won Album of the Year at the 2015 Brit Awards, and he received the Ivor Novello Award for Songwriter of the Year from the British Academy of Songwriters, Composers and Authors. A single from ×, "Thinking Out Loud", earned him the 2016 Grammy Awards for Song of the Year and Best Pop Solo Performance.

Ed Sheeran's third album, ÷ (pronounced "divide"), was released in March 2017, and was the best-selling album worldwide of 2017. The world's best-selling artist of 2017, he was named the Global Recording Artist of the Year.

Released in 2019, Ed Sheeran's fourth studio album No.6 Collaborations Project debuted at number one in most major markets, and spawned three UK number one singles, "I Don't Care", "Beautiful People" and "Take Me Back to London".

Globally, Spotify named him the second most streamed artist of the decade. Beginning in March 2017, his ÷ Tour became the highest-grossing of all time in August 2019. An alumnus of the National Youth Theatre in London, Sheeran's acting roles include appearing in the 2019 films Yesterday and Star Wars: The Rise of Skywalker. Listen to Ed Sheeran on Boomplay.
FAQs about Ed Sheeran
Where is Ed Sheeran from?
He is from United Kingdom.