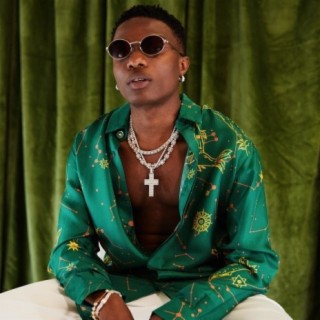 WizKid
Current #61

All Time #33

Ayodeji Ibrahim Balogun, known professionally as Wizkid is a Nigerian Singer and songwriter. He was born on July 16th 1990, in Surulere, Lagos, Nigeria. Wizkid grew up in an Interfaith Household, his dad is practicing muslim, while his mum is a christian. His father has 3 wives, and he has 11 female siblings.

Wizkid grew up listening to King Sunny Ade, Fela Kuti and Bob Marley and he cited Afrobeat legend Fela Kuti as one of his biggest inspirations. He started his career at the age of 11 under the name Lil Prinz, he was part of a gospel group called Glorious Five and he recorded his music in collaboration with the group which consisted of his friends from church in 2001.

Wizkid began recording his debut studio album Superstar in 2009 under Empire Mates Entertainment (EME for short), a record label owned by Banky w and Tunde Demuren. He released "Holla at Your Boy" as the album's lead single in 2010.This Wizkid's song was nominated for Best Pop Single but earned him the Next Rated award at The Headies 2011. By 2011, he released his debut studio album as a solo artist; Superstar, the album incorporates elements of Afrobeats, R&B, dancehall and reggae. This Wizkid's album went on to win the Best Album of the Year in the Nigeria Entertainment Awards in 2012.

Wizkid's Ojuelegba was a massive hit worldwide and it was also picked up and remixed by Drake and Skepta, thrusting Wizkid into the international spotlight. In October 2018, wizkid's song "Brown Skin Girl" won the Best Music Video award at the Grammys.

He released his own single, "Joro." The EP Soundman, Vol.1 under Starboy Entertainment imprint in 2019. Wizkid's fifth single, "Essence" (featuring Tems), became a worldwide hit. Wizkid even becoming the first Nigerian song to chart in the Billboard Hot 100. After the track became a hit, a remix featuring Justin Bieber was released. He released a deluxe version of the Album, with three new singles added to it....more

Country/Region : Nigeria
Listen to WizKid's new songs including "Expensive Shit", "Final (Baba Nla)", "The Matter" and many more. Enjoy WizKid's latest songs and explore the WizKid's new music albums. If you want to download WizKid songs MP3, use the Boomplay App to download the WizKid songs for free. Discover WizKid's latest songs, popular songs, trending songs all on Boomplay.
Ayodeji Ibrahim Balogun, known professionally as Wizkid is a Nigerian Singer and songwriter. He was born on July 16th 1990, in Surulere, Lagos, Nigeria. Wizkid grew up in an Interfaith Household, his dad is practicing muslim, while his mum is a christian. His father has 3 wives, and he has 11 female siblings.

Wizkid grew up listening to King Sunny Ade, Fela Kuti and Bob Marley and he cited Afrobeat legend Fela Kuti as one of his biggest inspirations. He started his career at the age of 11 under the name Lil Prinz, he was part of a gospel group called Glorious Five and he recorded his music in collaboration with the group which consisted of his friends from church in 2001.

Wizkid began recording his debut studio album Superstar in 2009 under Empire Mates Entertainment (EME for short), a record label owned by Banky w and Tunde Demuren. He released "Holla at Your Boy" as the album's lead single in 2010.This Wizkid's song was nominated for Best Pop Single but earned him the Next Rated award at The Headies 2011. By 2011, he released his debut studio album as a solo artist; Superstar, the album incorporates elements of Afrobeats, R&B, dancehall and reggae. This Wizkid's album went on to win the Best Album of the Year in the Nigeria Entertainment Awards in 2012.

Wizkid's Ojuelegba was a massive hit worldwide and it was also picked up and remixed by Drake and Skepta, thrusting Wizkid into the international spotlight. In October 2018, wizkid's song "Brown Skin Girl" won the Best Music Video award at the Grammys.

He released his own single, "Joro." The EP Soundman, Vol.1 under Starboy Entertainment imprint in 2019. Wizkid's fifth single, "Essence" (featuring Tems), became a worldwide hit. Wizkid even becoming the first Nigerian song to chart in the Billboard Hot 100. After the track became a hit, a remix featuring Justin Bieber was released. He released a deluxe version of the Album, with three new singles added to it.
FAQs about WizKid
Where is WizKid from?
He is from Nigeria.
How to download songs of WizKid?
You can download songs of WizKid from Boomplay App for free.
Firstly, install Boomplay app on your mobile phone.
Secondly, navigate to the song you would like to download.
Thirdly, Tap on More > Download.