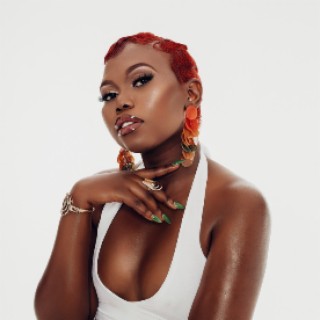 Maua Sama
Current #1,310

All Time #1,642

Maua Sama was born in Tanzania on August 27, 1990. She is most recognized for her work as an R&B and Afro-Pop singer. Many of Maua Sama songs become very popular and trendy online with a great number of streaming and downloads on Boomplay. Singer Maua Sama debuted her warm, R&B-inflected Afro-pop on singles including "Mahaba Niue "in 2015. She had her international breakthrough with "Iokote "in 2018.

Career
She began singing from a very young age. Born and raised in Tanzania, Maua Sama started singing in childhood, with her parents stressing the importance of education over music. Her parents were originally opposed to it, preferring that she concentrate on her academics. Despite parental pressure and a wish to drop out of school to focus solely on her music, she finally graduated.

After she graduated from high school, a couple of her songs made their way to Mwana FA, who helped introduce her to industry contacts.

In 2013, Mwana FA found Maua Sama. At the time, he listened to some of her songs and was immediately taken by her voice. Later that year, the two collaborated on a song called "So Crazy."

She soon traveled to Dar es Salaam and recorded tracks including "So Crazy "(featuring Mwana FA) and "Mahaba Niue, "both of which were released in 2015.

However, in January 2015, she released her first official song, "Let Me Know." With her big hit track "Iokote" starring Hanstone in 2018, she controlled the music airways and attracted music admirers outside of Tanzania as well as earning her place in the music scene.

The song garnered over ten million streams across platforms by the time a remix featuring rapper Rostam appeared in 2020. That year, she also released singles including "Nioneshe "and "Binua, "the latter featuring Jaivah.

With powerful but sensuous vocals, she boasts of popular songs such as "Katu Katu'', ''Amen'', ''Bounce", and "Nakuelewa" (2018), and has been featured by prominent singers such as Ben Pol and Marianne Mdee.

Follow Boomplay and keep up to date with the latest Maua Sama songs and information.

Maua Sama Songs
• Tomorrow
• Namwachia
• Nioneshe
• Never Ever
• Falling In Love
• Vimba
• Nimeridhia
• Kan Dance
• Katu Katu
• Let Them Know
• Magufuli
• Mahaba Niue
• Main Chick
• Nakuelewa
• Nioneshe

Maua Sama songs are included in Boomplay music playlists. Search to stream and download Maua Sama songs MP3/ single/ albums on the platform....more

Country/Region : Tanzania
Listen to Maua Sama's new songs including "Nioneshe ft. Alikiba", "Zai", "Falling In Love ft. Jux" and many more. Enjoy Maua Sama's latest songs and explore the Maua Sama's new music albums. If you want to download Maua Sama songs MP3, use the Boomplay App to download the Maua Sama songs for free. Discover Maua Sama's latest songs, popular songs, trending songs all on Boomplay.
Maua Sama was born in Tanzania on August 27, 1990. She is most recognized for her work as an R&B and Afro-Pop singer. Many of Maua Sama songs become very popular and trendy online with a great number of streaming and downloads on Boomplay. Singer Maua Sama debuted her warm, R&B-inflected Afro-pop on singles including "Mahaba Niue "in 2015. She had her international breakthrough with "Iokote "in 2018.

Career
She began singing from a very young age. Born and raised in Tanzania, Maua Sama started singing in childhood, with her parents stressing the importance of education over music. Her parents were originally opposed to it, preferring that she concentrate on her academics. Despite parental pressure and a wish to drop out of school to focus solely on her music, she finally graduated.

After she graduated from high school, a couple of her songs made their way to Mwana FA, who helped introduce her to industry contacts.

In 2013, Mwana FA found Maua Sama. At the time, he listened to some of her songs and was immediately taken by her voice. Later that year, the two collaborated on a song called "So Crazy."

She soon traveled to Dar es Salaam and recorded tracks including "So Crazy "(featuring Mwana FA) and "Mahaba Niue, "both of which were released in 2015.

However, in January 2015, she released her first official song, "Let Me Know." With her big hit track "Iokote" starring Hanstone in 2018, she controlled the music airways and attracted music admirers outside of Tanzania as well as earning her place in the music scene.

The song garnered over ten million streams across platforms by the time a remix featuring rapper Rostam appeared in 2020. That year, she also released singles including "Nioneshe "and "Binua, "the latter featuring Jaivah.

With powerful but sensuous vocals, she boasts of popular songs such as "Katu Katu'', ''Amen'', ''Bounce", and "Nakuelewa" (2018), and has been featured by prominent singers such as Ben Pol and Marianne Mdee.

Follow Boomplay and keep up to date with the latest Maua Sama songs and information.

Maua Sama Songs
• Tomorrow
• Namwachia
• Nioneshe
• Never Ever
• Falling In Love
• Vimba
• Nimeridhia
• Kan Dance
• Katu Katu
• Let Them Know
• Magufuli
• Mahaba Niue
• Main Chick
• Nakuelewa
• Nioneshe

Maua Sama songs are included in Boomplay music playlists. Search to stream and download Maua Sama songs MP3/ single/ albums on the platform.
FAQs about Maua Sama
Where is Maua Sama from?
She is from Tanzania.
How to download songs of Maua Sama?
You can download songs of Maua Sama from Boomplay App for free.
Firstly, install Boomplay app on your mobile phone.
Secondly, navigate to the song you would like to download.
Thirdly, Tap on More > Download.