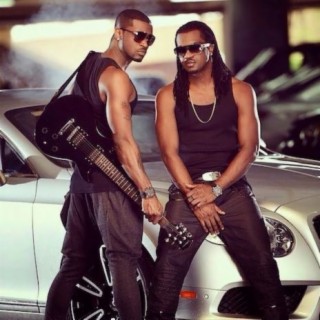 P-Square
Current #88

All Time #48

P-Square is a Nigerian music duo of the twin brothers Peter Okoye and Paul Okoye. Many P-Square songs become very popular and trendy online with a great number of streaming and downloads on Boomplay.

The twins Peter and Paul Okoye were born on 18 November 1981 in Anambra State, Nigeria. Their parents are Mrs Josephine Okoye and Pa Moses Okoye. The twin siblings are Jude, Mary, Tony, Lilian and Ifeanyi Okoye.

Career
They formed an a cappella quartet called "MMMPP" alongside other artists (M Clef a.k.a. Itemoh, Michael, Melvin, Peter and Paul). Drawing inspiration from their music idol Michael Jackson, they began break dancing, forming the group called "Smooth Criminals" in 1997. They dropped M Clef from the group "MMMPP" which later was changed to "MMPP". Their artistic talent and precise dance routine soon made them household names in the city of Jos, where they performed at school functions and other occasions.

In 2001, "P-Square" won the "Grab Da Mic" competition, and hence Benson & Hedges sponsored their debut album, titled Last Nite, which was released under Timbuk2 music label. P-Square was also nominated as "Most Promising African Group" in the Kora Awards three months after the release of their debut album. They eventually won the 2003 Amen Award for "Best R&B Group".

In 2005, they released their second album, Get Squared under their own label, Square Records. Late in 2007, they released their best selling album so far, Game Over, which sold 8 million copies worldwide.

In 2009, P-Square released their fourth studio album, Danger. The album features collaborations with 2 Face Idibia, J Martins and Frenzy.

In 2022, P-Square released two new singles "Jaiye (Ihe Geme)" and "Find Somebody". Start listening to P-Square's new music now!...more

Country/Region : Nigeria
Listen to P-Square's new songs including "Jaiye (Ihe Geme)", "Bring It On ft. Dave Scott", "Collabo ft. Don Jazzy" and many more. Enjoy P-Square's latest songs and explore the P-Square's new music albums. If you want to download P-Square songs MP3, use the Boomplay App to download the P-Square songs for free. Discover P-Square's latest songs, popular songs, trending songs all on Boomplay.
P-Square is a Nigerian music duo of the twin brothers Peter Okoye and Paul Okoye. Many P-Square songs become very popular and trendy online with a great number of streaming and downloads on Boomplay.

The twins Peter and Paul Okoye were born on 18 November 1981 in Anambra State, Nigeria. Their parents are Mrs Josephine Okoye and Pa Moses Okoye. The twin siblings are Jude, Mary, Tony, Lilian and Ifeanyi Okoye.

Career
They formed an a cappella quartet called "MMMPP" alongside other artists (M Clef a.k.a. Itemoh, Michael, Melvin, Peter and Paul). Drawing inspiration from their music idol Michael Jackson, they began break dancing, forming the group called "Smooth Criminals" in 1997. They dropped M Clef from the group "MMMPP" which later was changed to "MMPP". Their artistic talent and precise dance routine soon made them household names in the city of Jos, where they performed at school functions and other occasions.

In 2001, "P-Square" won the "Grab Da Mic" competition, and hence Benson & Hedges sponsored their debut album, titled Last Nite, which was released under Timbuk2 music label. P-Square was also nominated as "Most Promising African Group" in the Kora Awards three months after the release of their debut album. They eventually won the 2003 Amen Award for "Best R&B Group".

In 2005, they released their second album, Get Squared under their own label, Square Records. Late in 2007, they released their best selling album so far, Game Over, which sold 8 million copies worldwide.

In 2009, P-Square released their fourth studio album, Danger. The album features collaborations with 2 Face Idibia, J Martins and Frenzy.

In 2022, P-Square released two new singles "Jaiye (Ihe Geme)" and "Find Somebody". Start listening to P-Square's new music now!
FAQs about P-Square
Where is P-Square from?
They are from Nigeria.
How to download songs of P-Square?
You can download songs of P-Square from Boomplay App for free.
Firstly, install Boomplay app on your mobile phone.
Secondly, navigate to the song you would like to download.
Thirdly, Tap on More > Download.