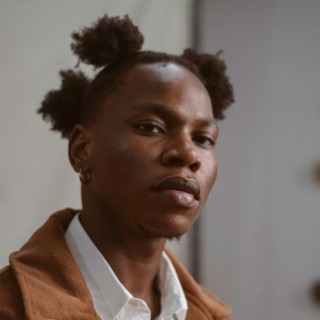 YKB
Current #5,239

All Time #4,162

Yusuf Oluwo Gbolaga known as YKB, is a Nigerian Afropop singer and songwriter. He is one of the new artists making wave and pushing through in the Nigerian music industry. Very talented and possessing a tiny unique voice, Yusuf has been able to fit into the hot competition amongst latest Nigerian Artists. Many of YKB songs become very popular and trendy online with great number of streaming and downloads on Boomplay.

Career:
He spent most of his childhood days in Ketu, Lagos, where he developed the zeal towards music. YKB is gifted at crooning in a high pitched tune, with a very nice and talented voice. He started doing music at a tender age, performing in different local shows and events. Ykb has realeased some couple of songs to his credit including the "Osho free" single in which he featured S3nami which was produced by Solo.

Achievement:
YKB attained a level of popularity following his deal with Mr Eazi-owned music empowerment scheme, Empawa Africa. His performance of his song Do and Undo on entertainment platform, Clout Africa, also contributed to this popularity.

He is currently gaining more foothold in the music industry with the Zlatan assisting him in Dey Your Dey. No doubt this guy is a next rated act and we believe sooner than later we will be seeing him in the spotlight.

Follow Boomplay and keep up-to-date with latest YKB songs and information.

YKB Songs:
• Dey Your Dey
• Osho Free
• Dey Your Dey ft. Zlatan

Net worth:
Yusuf Oluwo is a talented Singer and Songwriter, he is currently estimated to be worth about $10,000.

YKB songs are included in Boomplay music playlists. Search to stream and download YKB songs MP3/ single/ albums on the platform....more

Country/Region : Nigeria
Songs

(1)

Albums

(1)

Playlists

(2)
Listen to YKB's new songs including "Baby Enter (feat. Prince MD)", and many more. Enjoy YKB's latest songs and explore the YKB's new music albums. If you want to download YKB songs MP3, use the Boomplay App to download the YKB songs for free. Discover YKB's latest songs, popular songs, trending songs all on Boomplay.
Yusuf Oluwo Gbolaga known as YKB, is a Nigerian Afropop singer and songwriter. He is one of the new artists making wave and pushing through in the Nigerian music industry. Very talented and possessing a tiny unique voice, Yusuf has been able to fit into the hot competition amongst latest Nigerian Artists. Many of YKB songs become very popular and trendy online with great number of streaming and downloads on Boomplay.

Career:
He spent most of his childhood days in Ketu, Lagos, where he developed the zeal towards music. YKB is gifted at crooning in a high pitched tune, with a very nice and talented voice. He started doing music at a tender age, performing in different local shows and events. Ykb has realeased some couple of songs to his credit including the "Osho free" single in which he featured S3nami which was produced by Solo.

Achievement:
YKB attained a level of popularity following his deal with Mr Eazi-owned music empowerment scheme, Empawa Africa. His performance of his song Do and Undo on entertainment platform, Clout Africa, also contributed to this popularity.

He is currently gaining more foothold in the music industry with the Zlatan assisting him in Dey Your Dey. No doubt this guy is a next rated act and we believe sooner than later we will be seeing him in the spotlight.

Follow Boomplay and keep up-to-date with latest YKB songs and information.

YKB Songs:
• Dey Your Dey
• Osho Free
• Dey Your Dey ft. Zlatan

Net worth:
Yusuf Oluwo is a talented Singer and Songwriter, he is currently estimated to be worth about $10,000.

YKB songs are included in Boomplay music playlists. Search to stream and download YKB songs MP3/ single/ albums on the platform.
New Comments(
22

)
FAQs about YKB
Where is YKB from?
He is from Nigeria.
How to download songs of YKB?
You can download songs of YKB from Boomplay App for free.
Firstly, install Boomplay app on your mobile phone.
Secondly, navigate to the song you would like to download.
Thirdly, Tap on More > Download.