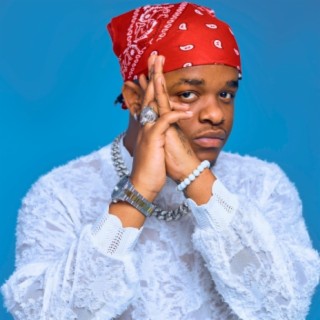 Whozu
Current #1,067

All Time #1,794

Oscar John Lelo (Born 10 March 1996), better known by his stage name Whozu, is a Tanzanian singer, songwriter, and Entertainer. Many of Whozu songs become very popular and trendy online with a great number of streaming and downloads on Boomplay. His music is a unique blend of Pop, Rnb, Afrobeat and traditional sounds from Arusha his home state.

Career
Whozu relocated to Dar-es-salaam in 2016 after he was done with his early secondary school stages and decided to go for what he loves. He has since released several records and Collaborations.

He caught the attention of many when his song "Huendi Mbinguni" was used as a popular theme song on the top Festival "Tigo Fiesta Festival" in 2018. He went on to release Roboti where he introduced a new smooth sound that left his audience captivated.

Doko released in late 2019 introduced a new African vibe which captivated the Tanzanian music industry and influenced many other artists. Early 2020 saw the release of yet another smooth vibe "Turn me on". He is set to release a new body of work which features his best works yet.

He has collaborated with industry heavyweights like Rich Mavoko, Gigy Money, Billnass, Hamisa Mobeto, S2kizzy, Lord eyes, The Hanstone and many more. Whozu's growth has been steady and he is poised to take his place among the greats of African Music in the nearest future.

Follow Boomplay and keep up to date with the latest Whozu songs and information.

Whozu Songs
• Gonga
• Huendi Mbinguni
• Roboti
• Mazoea
• Tunavesha
• Doko
• Aah Wapi!!
• Follow Unfollow
• Pwaah
• Usiombe

Whozu songs are included in Boomplay music playlists. Search to stream and download Whozu songs MP3/ single/ albums on the platform....more

Country/Region : Tanzania
Listen to Whozu's new songs including "Vavayo ft. Marioo", "Sijui Nikoje", "Chawa ft. Rayvanny & Ntosh Gaz" and many more. Enjoy Whozu's latest songs and explore the Whozu's new music albums. If you want to download Whozu songs MP3, use the Boomplay App to download the Whozu songs for free. Discover Whozu's latest songs, popular songs, trending songs all on Boomplay.
Oscar John Lelo (Born 10 March 1996), better known by his stage name Whozu, is a Tanzanian singer, songwriter, and Entertainer. Many of Whozu songs become very popular and trendy online with a great number of streaming and downloads on Boomplay. His music is a unique blend of Pop, Rnb, Afrobeat and traditional sounds from Arusha his home state.

Career
Whozu relocated to Dar-es-salaam in 2016 after he was done with his early secondary school stages and decided to go for what he loves. He has since released several records and Collaborations.

He caught the attention of many when his song "Huendi Mbinguni" was used as a popular theme song on the top Festival "Tigo Fiesta Festival" in 2018. He went on to release Roboti where he introduced a new smooth sound that left his audience captivated.

Doko released in late 2019 introduced a new African vibe which captivated the Tanzanian music industry and influenced many other artists. Early 2020 saw the release of yet another smooth vibe "Turn me on". He is set to release a new body of work which features his best works yet.

He has collaborated with industry heavyweights like Rich Mavoko, Gigy Money, Billnass, Hamisa Mobeto, S2kizzy, Lord eyes, The Hanstone and many more. Whozu's growth has been steady and he is poised to take his place among the greats of African Music in the nearest future.

Follow Boomplay and keep up to date with the latest Whozu songs and information.

Whozu Songs
• Gonga
• Huendi Mbinguni
• Roboti
• Mazoea
• Tunavesha
• Doko
• Aah Wapi!!
• Follow Unfollow
• Pwaah
• Usiombe

Whozu songs are included in Boomplay music playlists. Search to stream and download Whozu songs MP3/ single/ albums on the platform.
FAQs about Whozu
Where is Whozu from?
He is from Tanzania.
What are the latest songs of Whozu?
The latest songs of Whozu are Simba ni Noma ft. DONAT MWANZA, Ding Dong and Sijui Nikoje.
What are the best songs of Whozu?
The best songs of Whozu are Vavayo ft. Marioo, Ding Dong and Sijui Nikoje.
What are the best albums of Whozu?
The best albums of Whozu are Vavayo, Ding Dong and Sijui Nikoje.
How to download songs of Whozu?
You can download songs of Whozu from Boomplay App for free.
Firstly, install Boomplay app on your mobile phone.
Secondly, navigate to the song you would like to download.
Thirdly, Tap on More > Download.