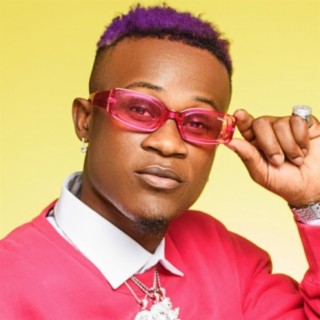 Dotman
Current #2,897

All Time #967

Olatunji Oladotun Alade (born in 1993 in Ogun State, Nigeria), popularly known as Dotman, is a Nigerian singer, rapper, performer. Many Dotman songs become very popular and trendy online with a great number of streaming and downloads on Boomplay.

Olatunji Oladotun Alade was born in Agosasa, Ipokia, Ogun State, Nigeria and is a member of the Yoruba ethnic group in South-Western Nigeria. He attended Abeokuta Grammar School and studied at the University of Lagos (degree in Physics Education). Inspired by artistes like King Sunny Ade, Fela Kuti, Akon, 9ice and Da Grin.

Career
He credits the start of his music career to him winning a rap competition at the University of Lagos. He is most famous for his hit singles "Akube", "My Woman", "Afro Girl" and "Omoge".

In 2016, he was featured on TooXclusive's "Artistes To Watch in 2017 and Vibe.ng's "7 Breakthrough Acts To Watch Out For in 2017" In January 2017, Dotman performed at Big Brother Naija's Live Eviction Show in South Africa.

In 2020, Dotman was signed to the music label Labo Entertainment which is a subsidiary of Labo Group owned by Nigerian entrepreneur Olabisi Akanbi. In May 2021, After spending a year with the label, Dotman returned to the role of a CEO pushing his craft forward with his record label.

Achievements
• Dotman got the nomination for Best New Act of the Year at the Nigeria Entertainment Award.

Follow Boomplay and keep up-to-date with the latest Dotman songs and information.

Dotman Songs
• Melo
• Drunk In Love ft. Dj Neptune
• Blessing
• Fine Girl
• Kilowade
• Orimi
• Akube
• Escobar
• My Woman
• Afro Girl
• Popping Bottles
• Iyawo
• Rara
• Pepesu
• Owo

Dotman songs are included in Boomplay music playlists. Search to stream and download Dotman songs MP3/ single/ albums on the platform....more

Country/Region : Nigeria
Listen to Dotman's new songs including "Feelings", "Drunk In Love ft. Dj Neptune", "Enu Gbe" and many more. Enjoy Dotman's latest songs and explore the Dotman's new music albums. If you want to download Dotman songs MP3, use the Boomplay App to download the Dotman songs for free. Discover Dotman's latest songs, popular songs, trending songs all on Boomplay.
Olatunji Oladotun Alade (born in 1993 in Ogun State, Nigeria), popularly known as Dotman, is a Nigerian singer, rapper, performer. Many Dotman songs become very popular and trendy online with a great number of streaming and downloads on Boomplay.

Olatunji Oladotun Alade was born in Agosasa, Ipokia, Ogun State, Nigeria and is a member of the Yoruba ethnic group in South-Western Nigeria. He attended Abeokuta Grammar School and studied at the University of Lagos (degree in Physics Education). Inspired by artistes like King Sunny Ade, Fela Kuti, Akon, 9ice and Da Grin.

Career
He credits the start of his music career to him winning a rap competition at the University of Lagos. He is most famous for his hit singles "Akube", "My Woman", "Afro Girl" and "Omoge".

In 2016, he was featured on TooXclusive's "Artistes To Watch in 2017 and Vibe.ng's "7 Breakthrough Acts To Watch Out For in 2017" In January 2017, Dotman performed at Big Brother Naija's Live Eviction Show in South Africa.

In 2020, Dotman was signed to the music label Labo Entertainment which is a subsidiary of Labo Group owned by Nigerian entrepreneur Olabisi Akanbi. In May 2021, After spending a year with the label, Dotman returned to the role of a CEO pushing his craft forward with his record label.

Achievements
• Dotman got the nomination for Best New Act of the Year at the Nigeria Entertainment Award.

Follow Boomplay and keep up-to-date with the latest Dotman songs and information.

Dotman Songs
• Melo
• Drunk In Love ft. Dj Neptune
• Blessing
• Fine Girl
• Kilowade
• Orimi
• Akube
• Escobar
• My Woman
• Afro Girl
• Popping Bottles
• Iyawo
• Rara
• Pepesu
• Owo

Dotman songs are included in Boomplay music playlists. Search to stream and download Dotman songs MP3/ single/ albums on the platform.
New Comments(
122

)
FAQs about Dotman
Where is Dotman from?
He is from Nigeria.
How to download songs of Dotman?
You can download songs of Dotman from Boomplay App for free.
Firstly, install Boomplay app on your mobile phone.
Secondly, navigate to the song you would like to download.
Thirdly, Tap on More > Download.