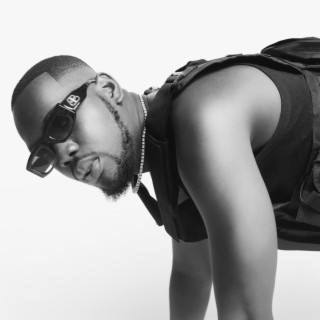 Tulenkey
Current #11.4k

All Time #5,273

Tulenkey is a Ghanaian born songwriter and rapper who made his major debut on the popular Sarkodie's hit song dubbed Biibi Ba. Many Tulenkey songs become very popular and trendy online with a great number of streaming and downloads on Boomplay.

Tulenkey is one of the super talented Ghanaian rappers in his home country. He is indeed a force to reckon with in the entertainment industry. The jam was done in collaboration with several other famous artists such as Lyrical Joe, Amerado, Kofi Mole, Frequency, Yeyo, Toy Boi, CJ Biggerman, O'BKay, and 2 Fyngerz.

Career.
He gained public recognition through a school's talent show and his family members and friends nicknamed him Optimist. Even though his appearance on the stage was impromptu, he never looked back.

After a keen interest in music, Tulenkey enrolled at the Abromedia Institute where he undertook a course in Sound Engineering. He also studied at Adisadel College.

Tulenkey has maintained a low profile on matters family and relationships. Not much is known about his parents, siblings, or girlfriend.

Follow Boomplay and keep up-to-date with the latest Tulenkey songs and information.

Achievement.
After his major debut in Biibi Ba, Tulenkey came through with the Refix of his street banging song dubbed Child Abuse which was a cover of the famous I Like It by Cardi B. The song redefined sexual harassment to that which comes from women.

Later on, the rapper dropped another jam dubbed Proud F*ck Boy featuring Eddie Khae. The jam was well-received and even gave him endorsements from top Ghanaian personalities such as the renowned Hollywood actor Idris Elba.

Tulenkey Songs
• Some of his other songs include:
• Your Girlfriend
• Ghetto Boy
• Goodnight
• Proud F*ck Boys
• Child Abuse Refix
• Yard
• Maze
• Composure
• Little Soldiers
• Corona
• Kill'em
• Tulenkey
• Rick Rose
• Scammer
• Ghanaian Coffee
• Baba
• Ibis Tins
• Party Gbee
• Burn It
• Bongo

Tulenkey songs are included in Boomplay music playlists. Search to stream and download Tulenkey songs MP3/ single/ albums on the platform....more

Country/Region : Ghana
Listen to Tulenkey's new songs including "50 ft. Medikal", "Ghetto Boy ft. Medikal & Kelvyn Boy", "Link Up" and many more. Enjoy Tulenkey's latest songs and explore the Tulenkey's new music albums. If you want to download Tulenkey songs MP3, use the Boomplay App to download the Tulenkey songs for free. Discover Tulenkey's latest songs, popular songs, trending songs all on Boomplay.
Tulenkey is a Ghanaian born songwriter and rapper who made his major debut on the popular Sarkodie's hit song dubbed Biibi Ba. Many Tulenkey songs become very popular and trendy online with a great number of streaming and downloads on Boomplay.

Tulenkey is one of the super talented Ghanaian rappers in his home country. He is indeed a force to reckon with in the entertainment industry. The jam was done in collaboration with several other famous artists such as Lyrical Joe, Amerado, Kofi Mole, Frequency, Yeyo, Toy Boi, CJ Biggerman, O'BKay, and 2 Fyngerz.

Career.
He gained public recognition through a school's talent show and his family members and friends nicknamed him Optimist. Even though his appearance on the stage was impromptu, he never looked back.

After a keen interest in music, Tulenkey enrolled at the Abromedia Institute where he undertook a course in Sound Engineering. He also studied at Adisadel College.

Tulenkey has maintained a low profile on matters family and relationships. Not much is known about his parents, siblings, or girlfriend.

Follow Boomplay and keep up-to-date with the latest Tulenkey songs and information.

Achievement.
After his major debut in Biibi Ba, Tulenkey came through with the Refix of his street banging song dubbed Child Abuse which was a cover of the famous I Like It by Cardi B. The song redefined sexual harassment to that which comes from women.

Later on, the rapper dropped another jam dubbed Proud F*ck Boy featuring Eddie Khae. The jam was well-received and even gave him endorsements from top Ghanaian personalities such as the renowned Hollywood actor Idris Elba.

Tulenkey Songs
• Some of his other songs include:
• Your Girlfriend
• Ghetto Boy
• Goodnight
• Proud F*ck Boys
• Child Abuse Refix
• Yard
• Maze
• Composure
• Little Soldiers
• Corona
• Kill'em
• Tulenkey
• Rick Rose
• Scammer
• Ghanaian Coffee
• Baba
• Ibis Tins
• Party Gbee
• Burn It
• Bongo

Tulenkey songs are included in Boomplay music playlists. Search to stream and download Tulenkey songs MP3/ single/ albums on the platform.
New Comments(
20

)
FAQs about Tulenkey
Where is Tulenkey from?
He is from Ghana.
How to download songs of Tulenkey?
You can download songs of Tulenkey from Boomplay App for free.
Firstly, install Boomplay app on your mobile phone.
Secondly, navigate to the song you would like to download.
Thirdly, Tap on More > Download.