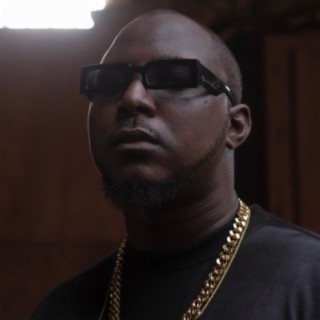 Eclipse Nkasi
Current #13k

All Time #5,762

Nkasiobi Chukwu popularly known as Eclipse Nkasi is a multi talented musician, Media strategist and content creator based in Lagos, Nigeria. He was born July 23, 1991. A lover of art and culture who is passionate about creative industrialization. He is a music producer, rapper, singer, actor and author who has been active in the entertainment/media industry for over a decade.

Nkasi was born in Kaduna to Igbo parents from Abia State, His formative years were marked by constant relocations due to his father's job as a sales and marketing representative. He grew up in Lagos, spent his secondary school years in Abuja (F.G.C Kwali), and enrolled for studies toward a BSc in Mass Communication at the University of Nigeria, Nsukka (UNN), in Enugu. As a result of his diverse background and upbringing, Eclipse regards himself as a full, and universal, Nigerian.

Many Eclipse songs become very popular and trendy online with a great number of streaming and downloads on Boomplay.

Career
Nkasiobi taught himself how to produce and began writing rhymes, while at UNN. He also became an on air presenter (OAP), on UNN's LION FM, where his warm and ready wit—and his penchant for answering listeners' questions in cheeky rhymes—soon won him a sizable listening audience.

Under the name 'Eclipse', Nkasi became a popular fixture on the South Eastern Nigerian battle RAP circuit, where his witty lyrics and condescending demeanor earned him the pseudonym 'The Demigod' — and eventually led to his being crowned King Of The South-Eastin 2011, after an all-night battle royale with the region's 13 best MCs.

Eclipse's victory led to interest from artistes from other regions, among them Yung6ix, Phenom, and JoshBeatz, with whom he collaborated on the single, 'Still Breathing', which not only became a hit song in Southern Nigeria, but also made its way to playlists in Lagos and Abuja.
The success of 'Still Breathing' persuaded him to relocate to Lagos, to pursue his dreams of a recording music career.

Shortly after relocating to Lagos, Eclipse was invited to a meeting with Ikhane Akhigbe, CEO of AbOriginal Productions, and who had been impressed by Eclipse's performance on 'Still Breathing'. Following a short meeting punctuated by ferocious fifteen-minute freestyle by Eclipse, Ikhane signed the young MC to AbOriginal Music, the music arm of AbOriginal Productions.

Under the AbOriginal Music banner, Eclipse has become a popular fixture on the Nigerian music scene, releasing singles to widespread acclaim, and further establishing his hip hop bonafides with a string of victories on the competitive Lagos rap battle scene, among them being crowned champion of the inaugural editions of popular events such as M.I Abaga's MADC Fight Night, and the Beat FM & Hennessey VS-sponsored VS Class.

He released the first single off the EP on November 30th 2015 with a feature from Nigeria's Rap king, MI Abaga
In 2015 Eclipse began work on City of Dreams, his debut recording project for AbOriginal Music, which he describes as 'the soundtrack to the story of a young man's encounters with love, loss, peer pressure, and spirituality on the road to success — delivered in an accessible and entertaining manner for fans of, not just rap and afro beats, but good music in general'.

Follow Boomplay and keep up-to-date with the latest Eclipse songs and information.

Eclipse Nkasi Songs and Albums
• Run Up On It
• Child of Destiny (Album)
• Reanimated EP
• I Need You
• Issa Jam
• Focus
• Destiny is Calling
• Odeshi
• Prepare For War

Eclipse songs are included in Boomplay music playlists. Search to stream and download Eclipse songs MP3/ single/ albums on the platform....more

Country : Nigeria
Songs

(30)

Albums

(14)

Playlists

(3)
1

2

3

4

5

6

7

8

9

10

11

12

13

14

15

16

17

18

19

20

21

22

23

24

25

26

27

28

29

30
Listen to Eclipse Nkasi's new songs including "Odeshi", "King Right Now", "Only Call" and many more. Enjoy Eclipse Nkasi's latest songs and explore the Eclipse Nkasi's new music albums. If you want to download Eclipse Nkasi songs MP3, use the Boomplay App to download the Eclipse Nkasi songs for free. Discover Eclipse Nkasi's latest songs, popular songs, trending songs all on Boomplay.
Nkasiobi Chukwu popularly known as Eclipse Nkasi is a multi talented musician, Media strategist and content creator based in Lagos, Nigeria. He was born July 23, 1991. A lover of art and culture who is passionate about creative industrialization. He is a music producer, rapper, singer, actor and author who has been active in the entertainment/media industry for over a decade.

Nkasi was born in Kaduna to Igbo parents from Abia State, His formative years were marked by constant relocations due to his father's job as a sales and marketing representative. He grew up in Lagos, spent his secondary school years in Abuja (F.G.C Kwali), and enrolled for studies toward a BSc in Mass Communication at the University of Nigeria, Nsukka (UNN), in Enugu. As a result of his diverse background and upbringing, Eclipse regards himself as a full, and universal, Nigerian.

Many Eclipse songs become very popular and trendy online with a great number of streaming and downloads on Boomplay.

Career
Nkasiobi taught himself how to produce and began writing rhymes, while at UNN. He also became an on air presenter (OAP), on UNN's LION FM, where his warm and ready wit—and his penchant for answering listeners' questions in cheeky rhymes—soon won him a sizable listening audience.

Under the name 'Eclipse', Nkasi became a popular fixture on the South Eastern Nigerian battle RAP circuit, where his witty lyrics and condescending demeanor earned him the pseudonym 'The Demigod' — and eventually led to his being crowned King Of The South-Eastin 2011, after an all-night battle royale with the region's 13 best MCs.

Eclipse's victory led to interest from artistes from other regions, among them Yung6ix, Phenom, and JoshBeatz, with whom he collaborated on the single, 'Still Breathing', which not only became a hit song in Southern Nigeria, but also made its way to playlists in Lagos and Abuja.
The success of 'Still Breathing' persuaded him to relocate to Lagos, to pursue his dreams of a recording music career.

Shortly after relocating to Lagos, Eclipse was invited to a meeting with Ikhane Akhigbe, CEO of AbOriginal Productions, and who had been impressed by Eclipse's performance on 'Still Breathing'. Following a short meeting punctuated by ferocious fifteen-minute freestyle by Eclipse, Ikhane signed the young MC to AbOriginal Music, the music arm of AbOriginal Productions.

Under the AbOriginal Music banner, Eclipse has become a popular fixture on the Nigerian music scene, releasing singles to widespread acclaim, and further establishing his hip hop bonafides with a string of victories on the competitive Lagos rap battle scene, among them being crowned champion of the inaugural editions of popular events such as M.I Abaga's MADC Fight Night, and the Beat FM & Hennessey VS-sponsored VS Class.

He released the first single off the EP on November 30th 2015 with a feature from Nigeria's Rap king, MI Abaga
In 2015 Eclipse began work on City of Dreams, his debut recording project for AbOriginal Music, which he describes as 'the soundtrack to the story of a young man's encounters with love, loss, peer pressure, and spirituality on the road to success — delivered in an accessible and entertaining manner for fans of, not just rap and afro beats, but good music in general'.

Follow Boomplay and keep up-to-date with the latest Eclipse songs and information.

Eclipse Nkasi Songs and Albums
• Run Up On It
• Child of Destiny (Album)
• Reanimated EP
• I Need You
• Issa Jam
• Focus
• Destiny is Calling
• Odeshi
• Prepare For War

Eclipse songs are included in Boomplay music playlists. Search to stream and download Eclipse songs MP3/ single/ albums on the platform.