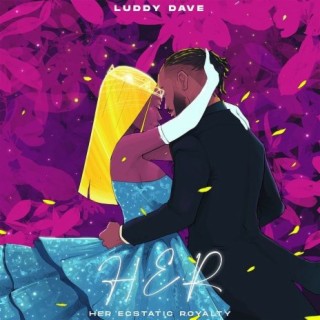 882.9k
Her Ecstatic Royalty
H.E.R (Her Ecstatic Royalty), a six-track EP which expresses the love/hate relationship Luddy Dave faces with life. The first track 'Kayamata' is a love song where he shows emotions in the twist and turn journey he is taking through life. There is a feeling of unrealness about this love, hence the feeling of him being jazzed. He further expresses how he truly feels about life, despite the conditions thrown at him in Intwind (ft Reespect). Jailer, the third track shows Luddy Dave still riding the love wave and in fact, locked in the confusion of the wave. At this point, with the obvious conditions thrown his way, he pleads to the jailer (life) to hear him and make things easier for him. "je je". Kuphi is a pop mixed with Amapiano sound. . While Sade is an appreciation track! He realizes that although rough, his path was unique and easier. The last track "Yolo" gives the party and celebration vibe in his love story. Enjoy the ride with Luddy in Her Esctatic Royalty Listen and download music for free on Boomplay!
...more
Luddy Dave
Her Ecstatic Royalty (6)
1

2

3

4

5

6
Her Ecstatic Royalty is a music album released in 2021. Her Ecstatic Royalty has 6 songs sung by Luddy Dave. Listen to all songs in high quality and download Her Ecstatic Royalty songs on boomplay.com.
Related Tags: Her Ecstatic Royalty, Her Ecstatic Royalty songs, Her Ecstatic Royalty songs download, download Her Ecstatic Royalty songs, listen Her Ecstatic Royalty songs, Her Ecstatic Royalty MP3 songs
H.E.R (Her Ecstatic Royalty), a six-track EP which expresses the love/hate relationship Luddy Dave faces with life. The first track 'Kayamata' is a love song where he shows emotions in the twist and turn journey he is taking through life. There is a feeling of unrealness about this love, hence the feeling of him being jazzed. He further expresses how he truly feels about life, despite the conditions thrown at him in Intwind (ft Reespect). Jailer, the third track shows Luddy Dave still riding the love wave and in fact, locked in the confusion of the wave. At this point, with the obvious conditions thrown his way, he pleads to the jailer (life) to hear him and make things easier for him. "je je". Kuphi is a pop mixed with Amapiano sound. . While Sade is an appreciation track! He realizes that although rough, his path was unique and easier. The last track "Yolo" gives the party and celebration vibe in his love story. Enjoy the ride with Luddy in Her Esctatic Royalty
New Comments(
8

)