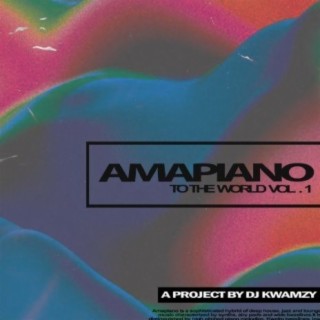 67.4k
Amapiano To The World, Vol, 1
Amapiano To The World Vol 1, A five-track project by DJ Kwamzy, executive produced by MOJVKI and Lesedi. This project includes features from BuMan, Kirani Ayat, Blaq pages, Ginius and Yung D3mz. The inspiration behind this project stems from the experimental nature of DJ Kwamzy. Such inspiration was drawn from Juls (his lifetime mentor). After Juls started tapping into the sound, Kwamzy thought of challenging himself to do the same as his mentor, little did he know he was going to be so hooked. What really sold DJ Kwamzy was the house music elements. This Ep has a lot of references from other Amapiano tapes including Happy place by Juls, Scorpion Kings by Kabza De Small and DJ Maphorisa, Different by Guiltybeatz and many more. DJ Kwamzy hopes this new tape encourages everyone to go out of their comfort zone and try something different, who knows? Your happy place is probably in an untapped place. DJ Kwamzy hopes that he will continue pushing the Amapiano sound, Amapiano To Th Listen and download music for free on Boomplay!
...more
DJ Kwamzy
Amapiano To The World, Vol, 1 (5)
1

2

3

4

5
Amapiano To The World, Vol, 1 is a music album released in 2020. Amapiano To The World, Vol, 1 has 5 songs sung by DJ Kwamzy. Listen to all songs in high quality and download Amapiano To The World, Vol, 1 songs on boomplay.com.
Related Tags: Amapiano To The World, Vol, 1, Amapiano To The World, Vol, 1 songs, Amapiano To The World, Vol, 1 songs download, download Amapiano To The World, Vol, 1 songs, listen Amapiano To The World, Vol, 1 songs, Amapiano To The World, Vol, 1 MP3 songs
Amapiano To The World, Vol, 1
Amapiano To The World Vol 1, A five-track project by DJ Kwamzy, executive produced by MOJVKI and Lesedi. This project includes features from BuMan, Kirani Ayat, Blaq pages, Ginius and Yung D3mz. The inspiration behind this project stems from the experimental nature of DJ Kwamzy. Such inspiration was drawn from Juls (his lifetime mentor). After Juls started tapping into the sound, Kwamzy thought of challenging himself to do the same as his mentor, little did he know he was going to be so hooked. What really sold DJ Kwamzy was the house music elements. This Ep has a lot of references from other Amapiano tapes including Happy place by Juls, Scorpion Kings by Kabza De Small and DJ Maphorisa, Different by Guiltybeatz and many more. DJ Kwamzy hopes this new tape encourages everyone to go out of their comfort zone and try something different, who knows? Your happy place is probably in an untapped place. DJ Kwamzy hopes that he will continue pushing the Amapiano sound, Amapiano To Th
New Comments(
21

)